Louvers And Fins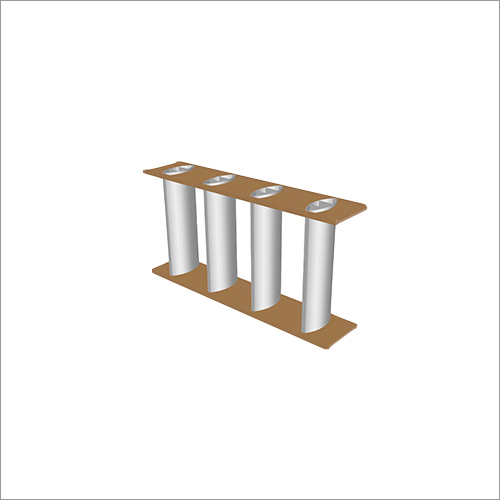 Louvers And Fins
Product Description
We are highly engaged in offering Wall Louvers and Fins which are manufactured using super grade raw materials and recent technology by our experienced experts. These are used to break up the boundary layers so as to yield higher heat transfer coefficients and lower thermal resistance than that which are possible with plain fins under the same flow conditions. Wall Louvers and Fins are arrangement of parallel, horizontal blades, slats, laths, slips of glass, wood, or other material designed to regulate airflow or light penetration. These are often used in windows or doors in order to allow air or light in while keeping sunshine or moisture out. These can be easily purchased by our clients at reasonable prices, in bulk quantities.
INSTALLATION FEATURES
COOLDECK's team will take up the complete turnkey job of supply and installation of the uPVC louvers/fins. Some of the features of the COOLDECK installation include.
Option of using Wood Polymer Composites used for support fixtures.
Support fixtures are pre configured with machine cuts at the factory to ensure equidistance between the fins.
Support fixture profiles are designed to ensure ample surface screwing area even in the most difficult corner installations.
Firm screwing strength provided on account of using a specially fabricated holder block/aluminium strip. This eliminates any screwing in the PVC profile.
Trained and experienced team for planning and execution of your project.
ADVANTAGES
Enhance architectural appeal of the building.
Allow significant amount of light in the building while reducing ill effects of direct heat.
Create a visual block but yet allow passage of cool air there by reducing energy cost.
Inexpensive solution compared to alternate materials.
Project pipes and ducts from the ill effects of direct sunlight.
Reduce heat absorption in the building structure.
Can be installed in new or existing building.
INNOVATION IN REALISM
The COOLFin range of louvers provides an extremely efficient and aesthetic screening system for building exteriors.
COOLFin louvers are made from UV stabilized uPVC. They can be ordered to exact sizes and are packaged with the supporting members that will be installed on the building surface. uPVC is the
material of choice in building projects all across the world with established advantages over other materials such as concrete, aluminum or steel.
COOLFin louvers are virtually maintenance free (except washing) as the material is impervious to rotting, scaling or corrosion. The product is manufactured under strict quality control systems at our factory in Daman, which is certified for ISO 9001: 2008 by BVQI.
FEATURES
Can be installed either vertically or horizontally
Lightweight and easy to install
Portions of the louver grid can be left 'openable' for servicing of underlying utilities
Available in multiple shapes and colours
Washable with soap water and hence easy to maintain
Fire retardant
PRODUCT RANGE
Rectangle
25mm x 50mm
25mm x 75mm
25mm x 100mm
40mm x 60mm
40mm x 75mm
40mm x 100mm
50mm x 75mm
50mm x 100mm
50mm x 140mm
55mm x 165mm
100mm x 125mm
100mm x 200mm
150mm x 200mm
Square
50mm x 50mm
55mm x 55mm